Annual Report 2019
(Excerpt: For the complete report please write to Epona-Stiftung für Pferd und Umwelt c/o Mermagen, Kesselstr. 15, 53797 Lohmar)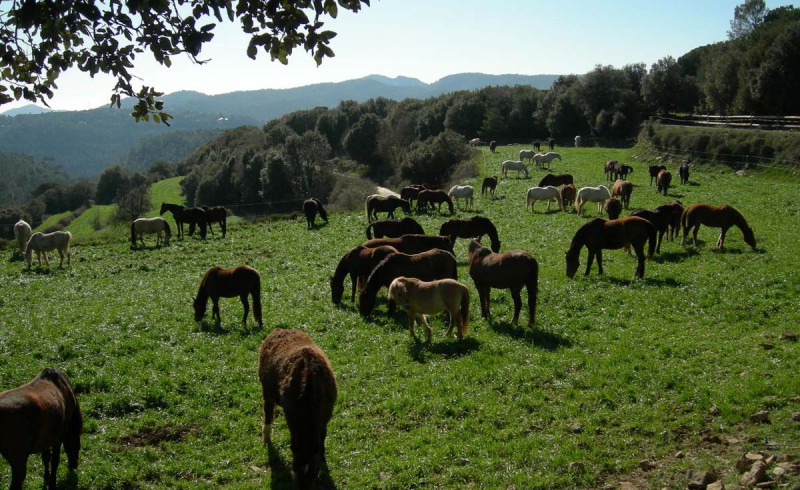 Moved to La Corona
On July 17, 2019, the Epona Foundation for the Horse and the Environment turned ten. These ten years are documented in the annual reports and the archive of the website. The anniversary year was quiet, apart from moving the horses to a new location in summer. La Corona is a finca with around 200 hectares, on which almost 100 horses live (www.retirodecaballos.com). There are two herds, a smaller one with ponies, donkeys and horses that cannot tolerate pasture grass. They are mainly housed on the wooded areas of the finca. The large herd has over 80 animals and alternates between five pastures of several hectares a year. In addition to Ella, our five horses and the two ponies Cooky and Toby live in the large herd. The attempt to incorporate Toby and Cooky into the herd of ponies failed. But since they have no problem with the pasture grass, we decided to integrate them into the large herd with the other Epona horses after the settling-in period. That was a good decision because the Epona horses form their own group in the herd. They are usually a little out of the way, where the grass grows naturally, that is, not plowed and sown, interspersed with wild herbs and flowers. As they are used to. Toby made friends with Indu. Yankee, a quaterhorse from the herd, who no longer left her side, fell in love with Aloha. Tango joined the Epona horses, which was integrated into the herd at about the same time and was alone. Above all, he gets on well with Kosmos.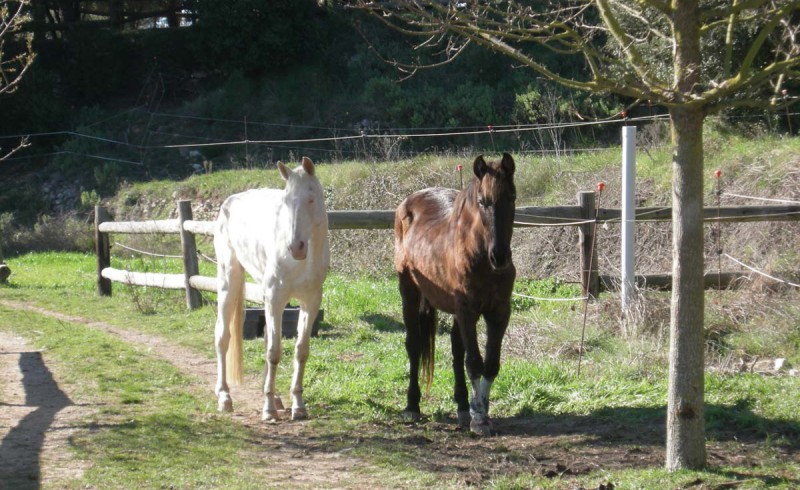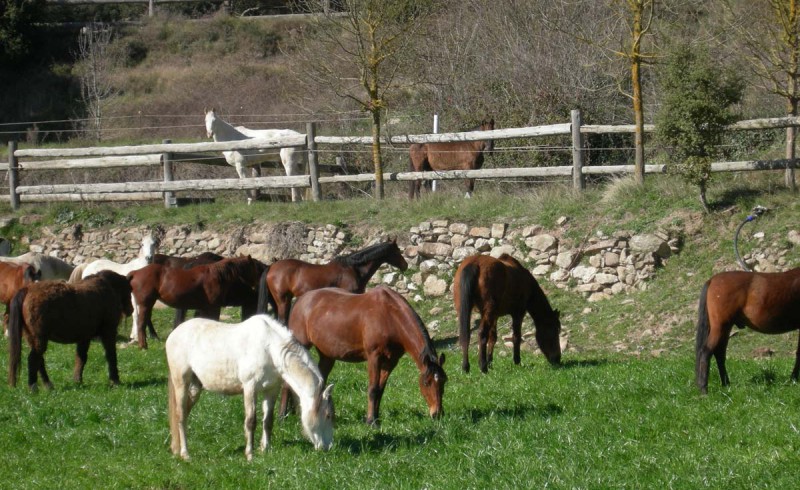 We also tried to integrate Ella into the herd. But because of her bad legs, we had to take her out again. The paths were too far and the terrain too rough for her. We brought her to Aria, who has problems with his two hind legs. For the mold, it was love at first sight. He saw Ella and followed her like a shadow. It took her a little longer to accept Aria as a friend. The two are now inseparable.
Two new adoptive horses
"La Corona – Residencia Equina" was founded by Sonsoles and Paul almost ten years ago to enable horses that have been mistreated or simply "retired" to be housed properly. They should live in a herd and in pastures. The first horse was a rescue operation in October 2011, the mare Pamela, followed by horses from family members and friends. The word went from mouth to mouth, and more and more customers came looking for a good place for their horses. But it always happens that horse owners cannot or do not want to pay the monthly pension. The pension is currently not paid by eleven horses. The Epona Foundation decided to help and adopted two horses, the two molds Nescafé, born on April 9, 2004, and Chamaco, born on September 14, 2000. They both came to La Corona in 2015 and have been inseparable ever since.
Chamaco was a beloved and respected jumping horse, but three years ago the owner got health and economic problems. She couldn't pay for her horse anymore. Sonsoles and Paul paid the costs. Chamaco is a lean horse and has difficulties in winter using the roughage, although his teeth are made every year. As soon as it stands on the green pastures, it increases again. He is very trusting, curious and loyal to his two friends Nescafé and Rociera.
Nescafé is like Chamaco, he is loving and calm like him, although, if necessary, he prevails over other horses. When he was young, he took part in dressage competitions. Both of his front legs are injured (navicular) and show signs of bandages that are too tight. When the ground is hard and stony, it sometimes hurts, hoof boots and a pain reliever help it. A year ago he had colic and had to go to the clinic.
The mold had been "saved" by a German woman, and she had been told that it would surely not live more than a year. After three years, she said that she could no longer pay now that Sonsoles and Paul had paid for him, and when they visited him at the clinic a year ago, he clearly showed how grateful he was, Sonsoles said.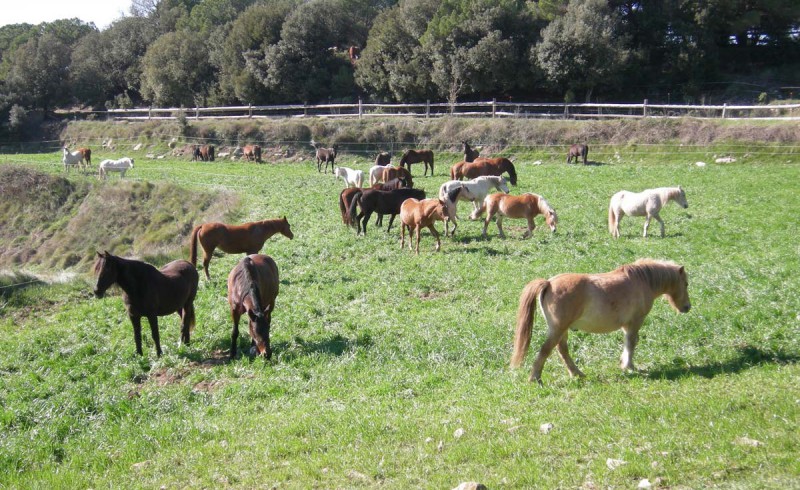 A visit to Lucy Rees and her Pottokas
Lucy Rees is an ethologist specializing in horses, writer and horse trainer (www.lucyrees.com). She lives with around 50 pottokas, a wild pony breed from the Basque Country, in an area of several thousand hectares near Piornal in northern Extremadura in western Spain. The horses live in these still relatively wild mountains, untouched by human hands, in self-chosen family and bachelor groups. Lucy Rees, sometimes accompanied by students from all over the world, documentary filmmakers, scientists, horse lovers, studies her behavior from a variety of perspectives: group behavior, reproduction, bonds, roles, tasks, foal / mare, friendships, health. Before deciding to start this project in Europe, she studied the behavior of wild horses in Australia (Brumbies), USA (Mustangs), South America (Cimarrons) and Patagonia (Baguales).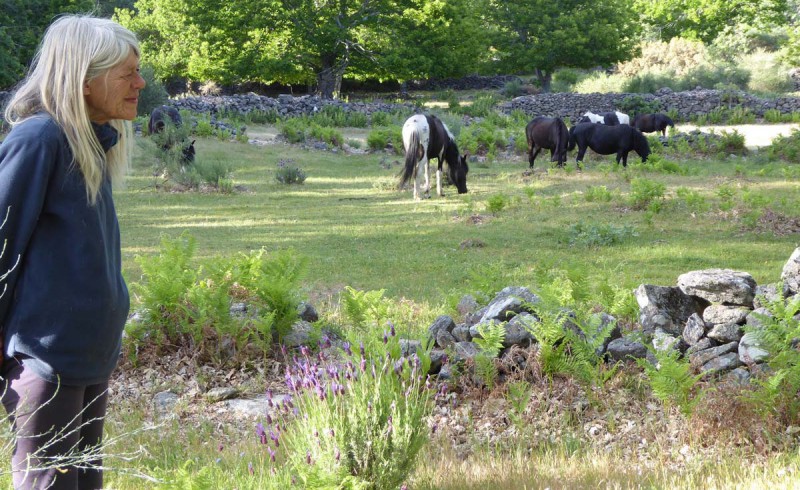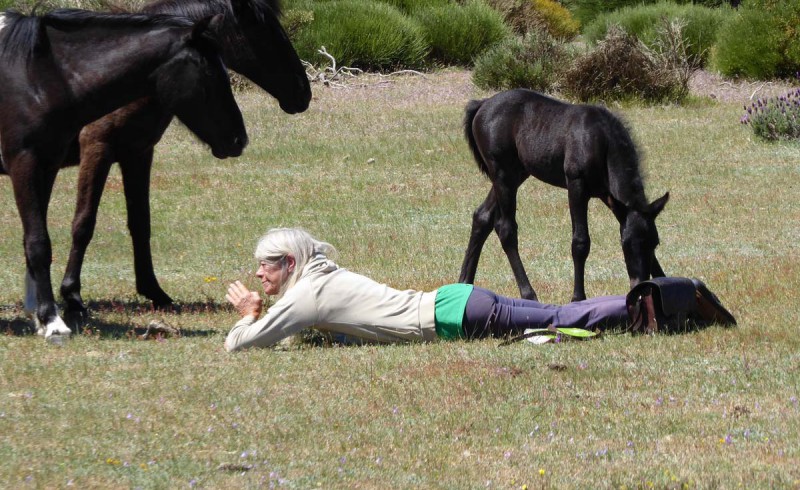 Marlies Kamps, president and founder of the Epona Foundation for Horse and Environment, visited Lucy Rees and her pottokas in May. Between wild lavender, yellow flowering gorse and huge gray boulders, the black and white pottokas grazed, played and ran the foals for competition, the stallions climbed their mares and lovingly looked after their offspring. The "bachelors" found friends and when two stallions met, they performed their rituals and left again. "Horses are above all peace-loving animals, they prefer to flee the conflict," says Lucy. Each animal has its role in the group and fulfills its tasks, for example the mother mare has to make sure that the "fridge" is always full, the foal is rather the responsibility of the father and the other family members
Horses need no "leader", no dominant boss, they are anarchistic and geared towards synchronization. If a flock flees, according to Lucy, the first thing everyone would do is to get together, secondly to synchronize and thirdly to respect the others and not to collide with them.
Hierarchy and dominance are human concepts that horses would not know. In order to understand horses and their difficulties they have with us, the predators, we would have to observe and get to know their true nature without being blinded by anthropomorphic interpretations and expectations. Lucy Rees has summarized her many years of observations and experiences with wild horses under various circumstances (e.g. life with or without predator) in her book "Horses in Company" (ISBN 978 1 90880 956 8). See also the interview with Lucy Rees on Epona Talks. In order to understand the different behaviors of wild, domesticated horses that live in a herd on pasture and single horses in boxes and paddocks, the Epona Foundation is planning a project together with Lucy Rees by observing these different horses and their behavior and be compared.
The Przewalski horses of the Takh organization
The Przewalski horse lived in Europe and Asia over 20,000 years ago. Before the small horse with its typical standing man, dark eel streak and light round belly was in danger of extinction in the 1960s, it lived for thousands of years in Mongolia, where it is called Takh or Takhi, wild horse, because according to IUCN ( International Union for Conservation of Nature) it has never been domesticated. It survived in zoos until the 1990s. In 1990, the ethologist Claudia Feh founded the Takh-Association pour le cheval Przewalski (www.takh.org) to reintroduce the horse to his homeland Mongolia.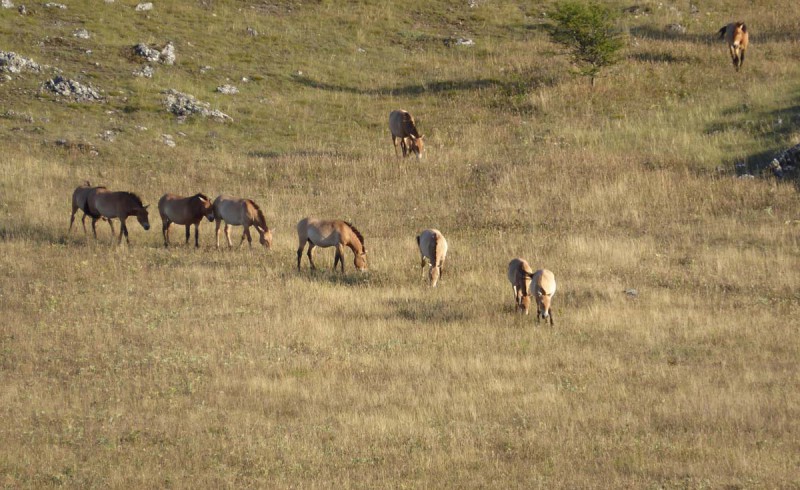 The project started in Le Villaret in the Cevennes in the south of France because the climate and vegetation there is similar to that in Mongolia. In 1993 Claudia Feh brought eleven horses from various European zoos there. Preparations took over ten years before the first horses could be brought to Mongolia. The ethologist primarily considered the family ties of the horses. In 2004 and 2005, 22 horses were transported by plane and truck to their new and old home, thousands of kilometers away. In the meantime (July 2019) 82 Przewalski horses live in a fenced area of 14,000 hectares in the Khar Us Nuur National Park in western Mongolia (www.takhi.mn). The goal is to one day remove the fence so that the horses can live freely.
Marlies Kamps visited Takh in Le Villaret in August. For a week she and Hélène Roche, Éthologie du cheval (www.heleneroche.fr), observed the Przewalski horses, their morphology, their social behavior in the family, the mare-foal relationship, friendships, physical contacts. They compared the resting phases of the horses with the active ones, such as grazing, playing, moving. The challenges of reintegration projects in general and in particular that of the Przewalski horses in Mongolia, the importance of involving and motivating the population to participate in protecting the environment, for example to prevent overgrazing, were discussed. The big question when opening the fences in Mongolia is that the Przewalski horse will survive and not become a hybrid by crossing with domesticated horses.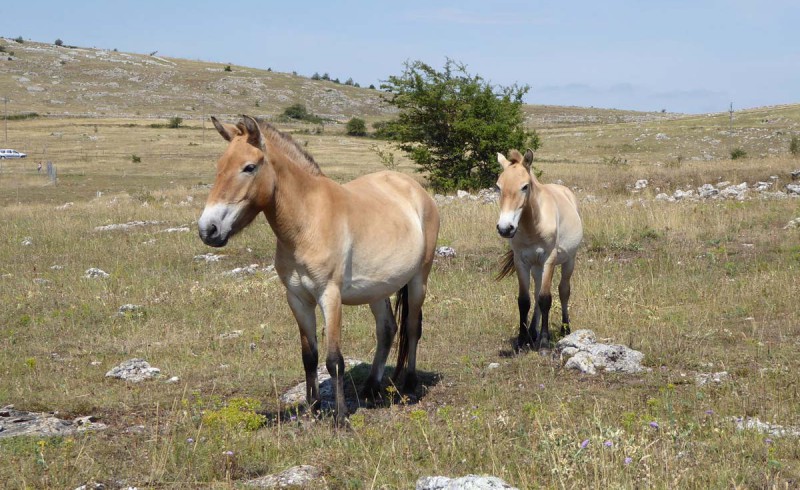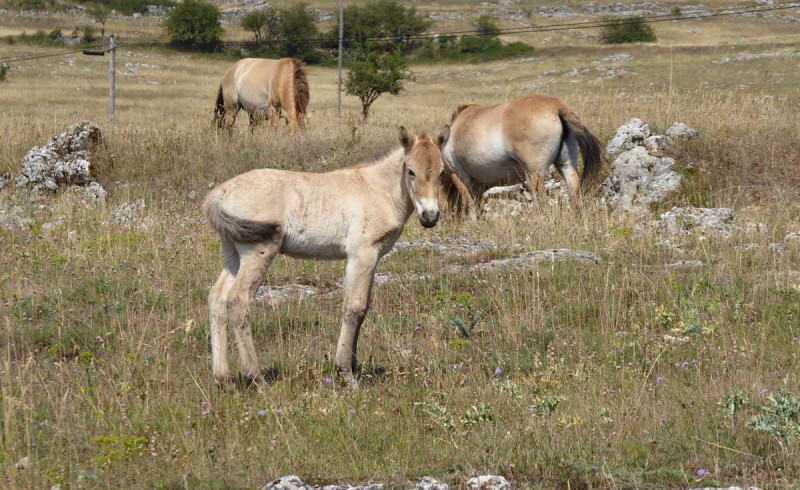 Farewell to Johanna
Johanna Wiig's life was shaped by a passion and great love - the horses. She was a trainer, teacher, adviser and always tried to improve, educate and help the situation of the horses. Since the beginning of the Epona Foundation, Johanna has been associated with the Epona horses (see also the interview with her on Epona-Talks). Johanna died at the age of 49 after a short serious illness on January 25, 2020. We miss her. It will always be alive in our hearts.
Annie Hansemanns reports from Brazil and Eritrea:
Uerê: success despite difficult times
Life in the slums of Rio de Janeiro is difficult. Constant police raids and wars between rival drug gangs cause casualties and death - innocent people are also affected. School was often canceled in 2019 because it closes immediately when helicopters and armed trucks from the military police appear. The government is working hard to exterminate the criminals in the slums and practically gave the police a license to act the way they want to. You don't have to worry about any investigation, violations of human rights are evident everywhere, and the population is afraid.
Uerê is proud this year because six boys from the scholarship project are aiming for further training. One passed the university entrance test and two more will be tested in 2020. One boy will take a test to be admitted to the Navy, another wants to be a hairdresser, and one has not yet made a final decision. In view of the fact that only 18% of the population in the slums receive further education, these young men have reached a milestone.
The uncertain and weak economy in Rio de Janeiro has forced companies to close or move to other regions of Brazil. Local and international NGOs were prevented by the right-wing government from fulfilling their tasks and were often even publicly attacked. Across Brazil, local NGOs had less income, had to cut back or even shut down their activities. This also applies to Uerê. In 2020, fewer teachers will teach fewer children. Uerê will continue to help the population and children as much as possible. The scholarships and the music project will continue. We all hope that better times will come.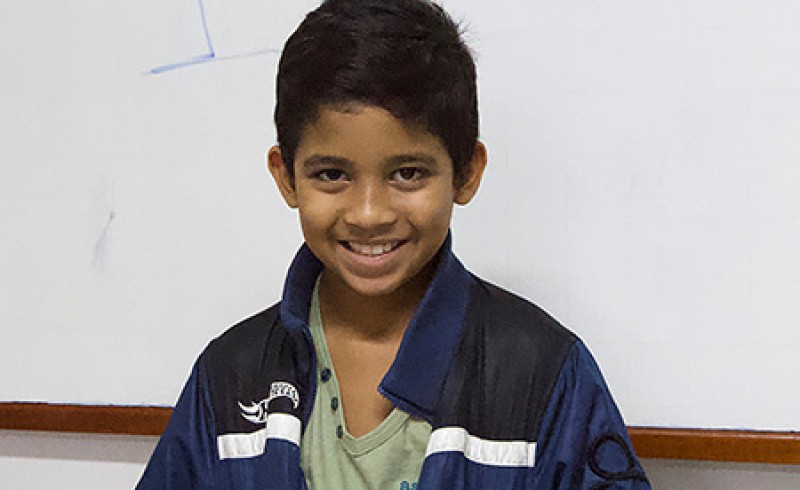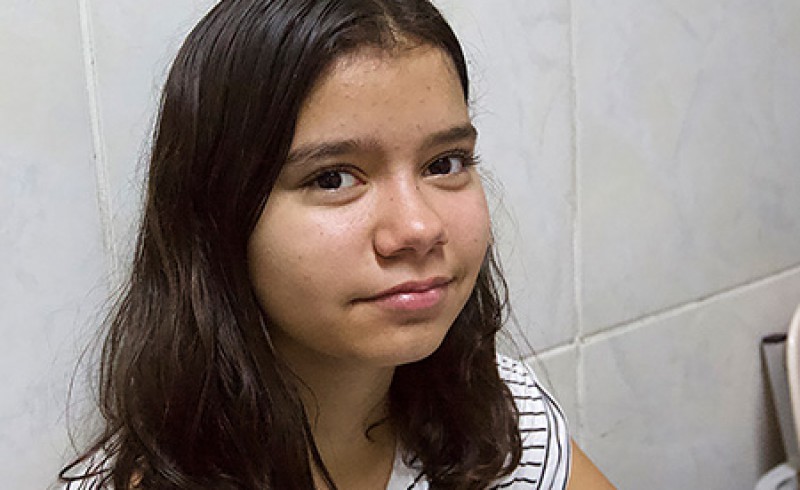 We are proud of our two godchildren: Mateus ended the school year with very good grades and Thalita was also transferred.
Eritrea: Donkey project expanded
In 2018, the peace agreement with Ethiopia was signed and the UN sanctions were lifted. The population was euphoric and convinced that many investors would come to the country and the national service (extended service on land) would finally be abolished. At that time I was already skeptical because many basic requirements, such as a continuous power supply, running water, international jurisdiction for contracts, as well as fast internet and mobile communications had to be created. Eritreans, who did not really trust peace, fled to Ethiopia, and it is estimated that around 175,000 mainly young people are now stuck in and around Addis Ababa and are doing their hardest to get through. In the course of 2019, all borders were closed again by Eritrea and have not yet been reopened. This was never really justified, but relations between the two countries have cooled noticeably. However, air traffic has been maintained and dialogue continues.
Nothing has changed for the population. Poor crops due to drought and grasshopper plagues lead to malnutrition in different parts of the country. The biggest disappointment for the youth was that the National Service was not canceled.
The donkey project continued in 2019 with the purpose of relieving mothers and daughters who have to walk long distances to a water point before having to walk back with the heavy water can. In coordination with a convention, in addition to the distribution of female donkeys, the focus in 2019 was increasingly on the distribution of goats. Goats are cheaper to buy, they are frugal and they give milk. This can support more families with young children, in which the woman is the family director. Taking care of the animals is up to the boys, who sometimes have to walk long distances to find a little bit of grass, moss or scrub. They also lead the herds to the water points. Sometimes you have to dig deep in the dry riverbed to reach the groundwater so that the thirsty animals can drink. In the late afternoon, the herds move back to the village on dusty paths or on the street. They are peaceful, almost biblical, pictures.